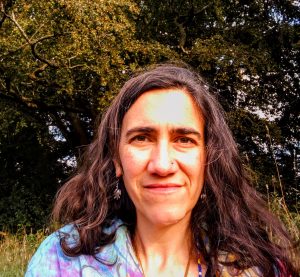 Mey Hasbrook is inspired by ancestors and the Earth; spirituality, women and healing; sustainability and the arts-for-all.  She deeply values community, creativity, and interactive process.
Mey travels in the ministry among the Religious Society of Friends and speaks where way opens. (See travel minute here.) She shares views about Quaker life and ministry on the Facebook page Sink Down & Rise Up.
Woven through the ministry is Mey's arts installation, In Relation, with its message of Right Relationship that connects care of the Earth and human community.  The process began via Britain Yearly Meeting's 2018 Sustainability Gathering in her role as invited artist and continues to grow. Her FB arts page is Dey of the Phoenix.
Mey serves as a volunteer in Kalamazoo for its 2020 Earth Day planning committee and wider Quaker circles. For Lake Erie Yearly Meeting she clerks the Earthcare Committee, and represents with Friends World Committee for Consultation and Quaker Earthcare Witness. She most recently is co-clerking QEW's Sustainability: Faith in Action Working Group.
Mey has engaged the arts as a generative tool to bridge diverse communities, communicate among Friends (Quakers), and transform public and sacred life; see project
La Puenta
for examples. In this direction, she co-led a revitalization of the Quaker Arts Center held at Friends General Conference Gathering from 2017 to 2019. For her earlier works and projects, visit the archived web site,
Dey of the Phoenix
. 
Updated January 26, 2020.