Mey Hasbrook is an artist and community organizer. Her interactive projects since 2006 have spanned the literary, performing, and visual arts. She's inspired by ancestors and the Earth; spirituality, women and healing; sustainability and the arts-for-all.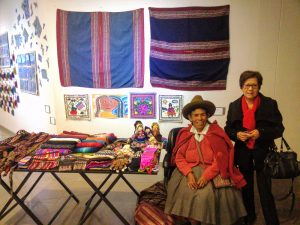 Mey engages the arts as a generative tool to bridge communities, connect Friends (Quakers), and transform public and sacred life.  Since 2015 Mey has developed a project called La Puenta, which promotes sustainable arts with attention to women's lives and creative goals.
Poetry and interdisciplinary works are Mey's special interests.  Her visual mediums span installation art, mixed-media collage, and book arts. She currently uses sustainable materials — beeswax (encaustic medium), fiber (alpaca, naturally-dyed wool), handmade paper, and re-purposed objects. Mey is working on her first fiction project, and has curated the Quaker Arts Center at Friends General Conference Gathering (2017-18).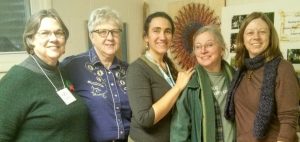 Mey is a member of the Arts Council of Greater Kalamazoo, Arts Council of Greater Lansing, and the Fellowship of Quakers in the Arts. (Details about her Quaker affiliations are available upon request; please send a message.)
Updated July 14, 2018.
First published May 19, 2018.