---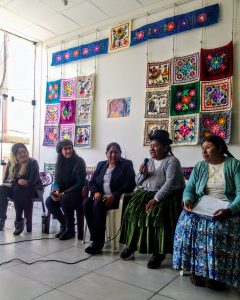 La Puenta was a ministry of Mey Hasbrook under the care of Kalamazoo Friends Meeting from 2015 to 2018.  Its projects aimed to support women's lives and creative goals with attention to sustainability.  Posts and photos from that work are found at the page for La Puenta on Facebook.

Through this public arts ministry and travel, Mey met indigenous Aymaran Quaker artisans in the remote highlands of Peru. They were mostly women and belonged to the Trimestral Meeting of Highland Friends (Yearly Meeting of INELA Peru). In part due to her visitations, these Friends formalized an artisan association.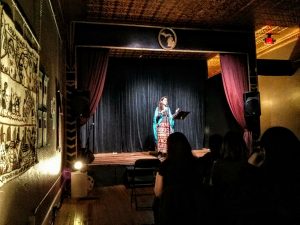 Partners  included advocacy agencies — the Puno office of Movimiento Manuela Ramos (Peru/ 2017) and the YWCA of Kalamazoo (Michigan, USA/ 2016). Exhibitions took place at ICPNA Cusco (2016-17); Casa de Cultura de Puno (2017); The Robin Theater (Lansing, MI / 2016); the Epic Center with the Arts Council of Greater Kalamazoo (MI/ 2017); and nonprofit FIRE (Kalamazoo, MI/ 2016).
Grants for La Puenta projects included the Quaker Lyman Fund (for spiritual leadings/ 2015-16), the Michigan Council of Arts and Cultural Affairs (ACGK minigrant for nonprofits/ 2016), and the Puffin Foundation Ltd. (an artist fund/ 2017). Travel by Mey Hasbrook was supported in part through the Susan Bax Memorial Fund (Friends World Committee for Consultation, Section of the Americas/ 2016-17) and the Follow Your Feet Fund (Kalamazoo Friends Meeting/ 2016-17).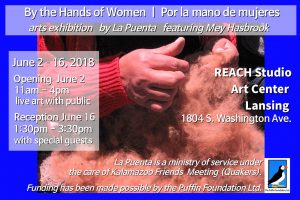 "By the Hands of Women|Por la mano de mujeres" was the last traveling exhibition between Peru and Michigan, in 2017 and 2018.

Updated March 23, 2021.