La Puenta promotes sustainable arts with attention to women's lives and creative goals. Projects are led by Mey Hasbrook – Artist.Visit La Puenta's community page on Facebook.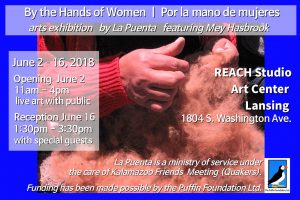 La Puenta is a ministry of service and travel under the care of Kalamazoo Friends Meeting (Quakers; Lake Erie Yearly Meeting) since its launch in 2015.  
La Puenta has concluded its start-up phase of traveling exhibitions. "By the Hands of Women | Por la mano de mujeres" wrapped up this cycle in June 2018. From 2015 to 2017, collaborative projects spanned Michigan and Peru.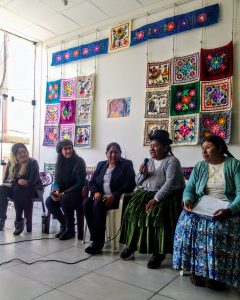 A transition is underway for La Puenta. New inspirations are arising from exploring sustainability as "right relationship" across communities. At the same time, La Puenta is seeking partners — from individuals to agencies — for creating a sustainable follow-up with a Quaker community of indigenous women artisans in Peru.  Inquiries by email are welcome — meymdhATgmailDOTcom.

La Puenta partners have included advocacy agencies like the Puno office of Movimiento Manuela Ramos (Peru/ 2017) and the YWCA of Kalamazoo (Michigan, USA/ 2016). Exhibitions have taken place at ICPNA Cusco (2016-17); Casa de Cultura de Puno (2017); The Robin Theater (Lansing, MI / 2016); the Epic Center with the Arts Council of Greater Kalamazoo (MI/ 2017); and nonprofit FIRE (Kalamazoo, MI/ 2016).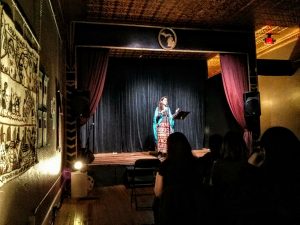 Grants for La Puenta projects have included the Quaker Lyman Fund (for spiritual leadings/ 2015-16), the Michigan Council of Arts and Cultural Affairs (ACGK minigrant for nonprofits/ 2016), and the Puffin Foundation Ltd. (an artist fund/ 2017). Travel by Mey Hasbrook has been supported in part through the Susan Bax Memorial Fund (Friends World Committee for Consultation, Section of the Americas/ 2016-17) and the Follow Your Feet Fund (Kalamazoo Friends Meeting/ 2016-17).
Updated July 14, 2018.
First published May 19, 2018.